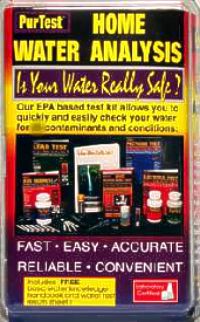 Product ID: PTS-PT101
Category: Testing Kits - Test Kits

11 in 1 Water Testing Kits - Complete Package

Description: Discontinued - Try the http://www.healthyhomemall.com/detail.asp?PRODUCT_ID=PLB-WQ105

Home Water Analysis Kit is ideal for new homeowners, and is economical for anyone who has not tested their home water recently. Clear directions, easy methods, and top quality non-toxic test ingredients assure you of reliable test results.

Compare to other home water test kits and save. Look at all the tests you get in just one package!

The PurTestŪ HOME WATER ANALYSIS KIT contains:
1 Bacteria test
1 Pesticide test (Atrazine & Simazine)
1 Lead test (results in 10 minutes!)
2 Nitrate tests
2 Nitrite tests
2 Iron tests
2 Hardness tests
2 Chlorine tests
2 Copper tests
2 Alkalinity tests
2 pH tests
1 Water Test Results Sheet
1 Basic Water Knowledge Information Book
The EPA has estimated that periodic municipal water systems testing can miss contaminants. PurTestŪ helps you protect you and your family with little effort and accurate results. You can test before you spend money on water filters or treatment systems and be better informed if corrective treatment is indicated.