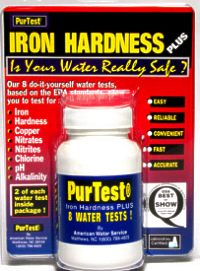 Product ID: PTS-PT201I
Category: Testing Kits - Test Kits

8 in 1 Test Kit plus Iron & Hardness

Description: Iron Hardness Water Test Kits - allows you to test for both iron contamination and water hardness.

IRON can stain plumbing fixtures and laundry, even form sludge deposits.

HARD WATER (mineral deposit buildup) damages water heaters and plumbing and wastes soap, detergents and shampoo. Parallels rite tests

The PLUS in this popular kit are tests for 6 more water problems: 8 different tests in one kit:
2 Iron tests
2 Hardness tests
2 Chlorine tests
2 Copper tests
2 Alkalinity tests
2 pH tests
2 Nitrate tests
2 Nitrite tests
Water contaminated with harmful bacteria, nitrates or nitrites can cause:
Diarrhea
Cramps
Nausea
Headache
Serious Illness
Even Death
PurTestŪ NITRATE & NITRITE instantly detect potentially harmful levels of these pollutants, which for infants may cause a sometimes fatal "blue baby" condition.
You should test your water at least once per year. Healthy Home Products - Dovetail Distribution is proud to provide our Auto-Ship Program. With this program we will send you your bacteria water test kits once per year without you having to remember. Click here for details.