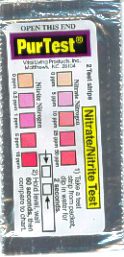 Product ID: PTS-PT301NIT
Category: Testing Kits - Test Kits

Nitrate/Nitrite Foil Pack Test Strips

Description: Nitrate/Nitrite Double Strip Packet - 2 strips per foil packet. Detects potentially harmful levels of these pollutants in water, which for infants may cause a sometimes fatal "blue baby" condition. Get results in 1 minute.

Need more than 1 test packet? $SAVE MONEY$ with our Mix & Match DIY Water Quality Test Strip Kit.