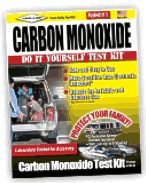 Product ID: PLB-CA101
Category: Testing Kits - Test Kits

Carbon Monoxide Test Kit Professional Quality at Home

Description: The Professional Carbon Monoxide Test Kit

Carbon monoxide is an odorless, tasteless, and colorless gas which is caused by incomplete combustion of fossil fuels from:
Gasoline
Kerosene
Natural Gas
Butane
Propane
Fuel oil, wood or coal and any other type of fuel.
It is estimated that carbon monoxide causes as many as 1,000 deaths per year in the United States.


Compact and cost effective enough to purchase one for every room in your home or office to breathe truly clean air.
How fast does the sensor work?
| | |
| --- | --- |
| Concentration | Reaction Time |
| 600 ppm (.060%) | 1-2 minutes |
| 400 ppm (.040%) | 2-4 minutes |
| 200 ppm (.020%) | 4-15 minutes |
| 100 ppm (.010%) | 15-30 minutes |
| 50 ppm (.005%) | 30-45 minutes |

Note: Reaction time is slightly faster when damp, and slightly slower when dry. Caution: The sensor button will be damaged by halogens, ammoniac and nitrous gases. Keep away from cleaners, solvents and other contaminants. Harsh direct sunlight will bleach out sensor button and shorten useful life.
Order a test kit today and breathe easier knowing that you are safe!
Do you have a gas or oil burning furnace in your home or office?
Do you have a working fireplace?
Do you have a gas clothes dryer?
Do you have a gas or oil burning water heater?
Do you have a kerosene, gas, or oil burning space heater?
Do you or someone you know start their automobile in the garage with the door closed?


If you answered YES to any of the above questions, then you and your family are at risk of suffocating to death by INVISIBLE and ODORLESS CARBON MONOXIDE GAS!
Click here for more information on Carbon Monoxide symptoms
1 kit contains 2 sensors that last 3 months each.