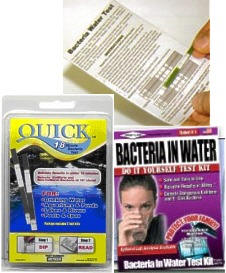 Product ID: DTPBIT-999195110
Category: Testing Kits - Test Kits

Bacteria Science Fair Project - Student Project Kit

Description:

The Dovetail Student Project Kit is exellent as a science fair project to test for bacteria in water and on surfaces, all packaged in this convenient kit.

Included in this kit:
1 - Bacteria Growth Check Kit
Bacteria Growth Check is ideal for spot checks when bacteria presence is suspected. If an area is suspect for bacteria, either dip a test strip into the sample, or, for surfaces, add deionized/distilled water and swab.
Bacteria Growth Check Kit comes packaged in a bottle with 30 test stripes individually wrapped.
2 - Bacteria 18 Minute Test Kits
This easy to use dip and read test strip detects E.coli, species of Salmonella, Shigella, Enterobacter, Klebsiella and many other coliform and non-coliform bacteria. Bacterial contamination should be of great concern for pool and spa owners, operators, or anyone who tests their water quality. Contamination can occur without warning and the safety of customers, families, and friends come first. QuickTMBacteria Test detects coliform and non-coliform bacteria at 103 cfu/ml.
Each testing kit contains 2 complete tests each consisting of 1 test strip, 1 sample vial and 1 dropper pipette, for a total of 4 complete Bacteria 18 Minute Tests.
1 - Bacteria In Water Test Kit
Our simple do-it-yourself test identifies dangerous bacteria in 48 hours. Optional lab analysis is available, which indicates the exact count and type of bacteria present.
Kit contains petri dish, bacteria medium, calibrated pipette dropper and information form.
Also available is an optional test for "unhealthy" levels of coliform bacteria to determine which samples to grow for indentification. Includes 2 vial tests.